Ultrasonic Testing Services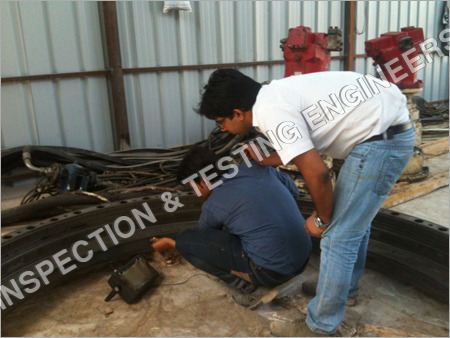 Ultrasonic Testing Services
Service Code : UT 17
Brand Name : INSPECTION & TESTING ENGINEERS
Ultrasonic Testing
Very short Ultrasonic pulse-waves are utilized in Ultrasonic Testing. These have center frequencies ranging from 0.1 MHz-15 MHz and it can also raise up to 50 MHz on certain occasions. The pulse-waves are penetrated into specimen to categorize materials or to detect internal defects. Thickness of the test material such as monitor paperwork, is determined by the Ultrasonic thickness measurement test. Ultrasonic testing is commonly performed on different types of alloys like steel and metals and alloys such as steel. Although less resolution, it is also suitable for thickness test of concrete, composites and wood. Many transportation related industries like aerospace, automotive , etc., utilize this non-destructive testing or NDT method. The transducer performs both the receiving and the sending of the pulsed waves in pulse echo mode. In this process, the "sound" is reflected back to the device when coming in contact with any interference, such as object's back wall or the imperfection in the structure of the object. The diagnostic machine produces results in the form of a signal along with an amplitude which denotes the reflection intensity and the distance, representing the reflection arrival time.

Advantages

Automated systems generate detailed images.
Highly automated or portable operation capability.
High sensitivity, permitting the detection of extremely small flaws.
Greater accuracy than other nondestructive methods in determining the depth of internal flaws and the thickness of parts with parallel surfaces.
Some capability of estimating the size, orientation, shape and nature of defects.
Non hazardous to operations or to nearby personnel and has no effect on equipment and materials in the vicinity.
Capable of portable or highly automated operation.
It is sensitive to both surface and subsurface discontinuities.
Minimal part preparation is required.
Electronic equipment provides instantaneous results.
Detailed images can be produced with automated systems.
It has other uses, such as thickness measurement, in addition to flaw detection.
High penetrating power helping in detection of flaws deep in the parts.
Fitted electronic equipment deliver instantaneous results.
Apart from flaws detection, it has many different uses like measurement of thickness.
Both subsurface and surface discontinuities sensitivity.
The most accurate nondestructive methods in determining the internal flaws depth and thickness of parallel surfaces parts.
Non hazardous to equipment and material presence in the operating area and causes no harm to nearby personnel or operations.
Only single-sided access is required due to the use of pulse-echo technique.
Allows the detection of extremely tiny flaws owing to optimum sensitivity.
Requirement of minimum part preparation.
Accurate estimation of the shape, nature, size of defects.
Product details
| | |
| --- | --- |
| Testing Type | Hardness Testing,Pressure Testing,Tensile Testing |
| Location | India |
| Place of Testing | Laboratory |
| Type of Material | Destructive |
| Components of Testing | Engine/Motor |
| Application | Petro-Chemical |
Contact Details
INSPECTION & TESTING ENGINEERS


An NABL & ISO 9001 : 2008 Accredited Lab
Correspondence Address : F 22-23, Site C, Surajpur Industrial Area, UPSIDC, Greater Noida - 201308, Uttar Pradesh, India
Phone : +918068092487
Mr. Arun Pawar (Quality Head)
Mobile : +918068092487
Lab Address :
ITE Lab Division
Barola, Sector - 49 Noida, Uttar Pradesh - 201301

Industrial Facility Address :
Inspection & Testing Engineers
F-22 & F-23, Site - C, UPSIDC, Surajpur Industrial Area, Surajpur, Greater Noida, Uttar Pradesh